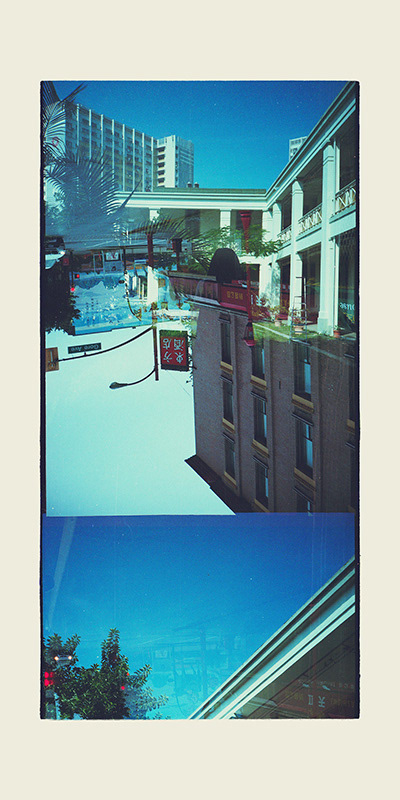 For decades, Vancouver has been a destination for residents leaving Hong Kong and there is a phenomenon of double-reverse migration that has shaped the two cities across the Pacific. Both the leaving and returning Hongkongers have been looking for a better life on the other shore.
Tête-bêche⇋Paramita is an ongoing collaboration by Hong Kong photographer Thomas Lin and Vancouver-based installation artist George Ho. Lin invited Ho, his childhood pal, to take photographs of his city and exchange the film rolls with his for the second exposure. While witnessing the resulted overlapping images, they marveled at the inspiration that at the shore beyond, there lies hidden a link that can re-amend and rebuild their relationship of separation and rejoining. Comprised of a series of poetic tête-bêche images where the landscape of the two cities merge and blur, the work traces a transpacific partnership of thirty years even as it meditates upon questions of memory, history, and chance.
This project was inspired by Yichang Liu's influential novel, Intersection (1972). The work has been exhibited in Vancouver in 2019, Gansu in 2018, Pomona CA in 2015, Richmond BC, Taipei and Hong Kong in 2014, and was collected by the Hong Kong Heritage Museum.